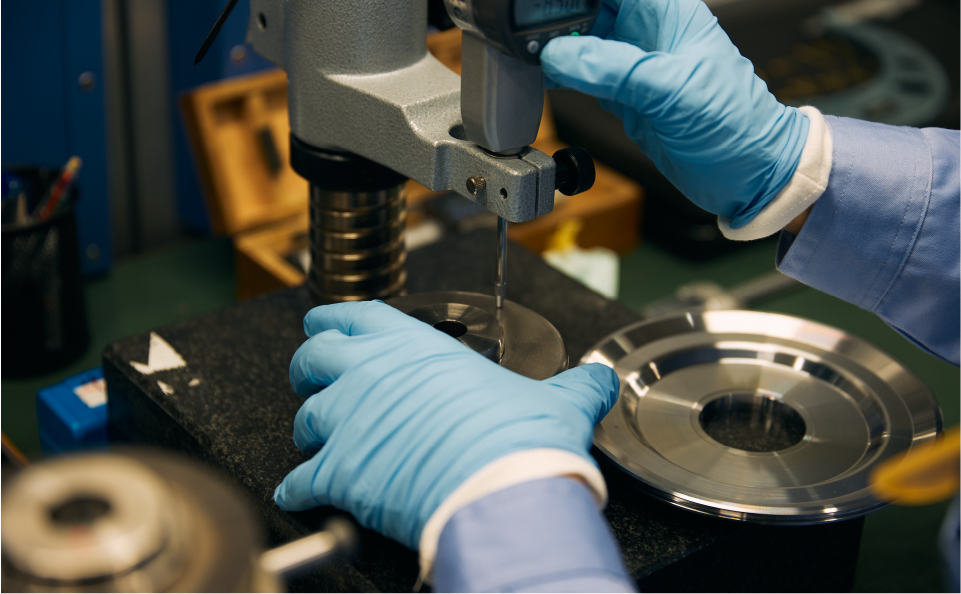 Kanemitsu's "Craftsmanship"
Having an integrated business structure including everything from development & design to manufacturing since its foundation, Kanemitsu has engaged in high-precision and high-quality manufacturing. Being a "reliable technology partner", Kanemitsu has always shared hopes and aspirations with its customers and has endeavored to bring them to fruition.
Original Roll-forming
Able to increase thickness of the material approximately three times more. (Outer peripheral part)
Kanemitsu's original metal plate forming with solid fabrications technology involves forming a cup-shaped semi-finished product into the required shape by rotating using rollers.
Durable and light
Able to reduce product weight while offering required functionality by means of a thinner product shape accomplished by enhancing hardness due to work hardening at thickening and thinning parts comparing to casting, as partial thickening or thinning is possible. Also, pursuing a product intensity and toughness through a process designing focusing on metal flow (metallic structure).
Eliminating the cutting process ensures no waste and faster work
"Roll-forming" ensures a high material yield making the maximum use of raw materials because it doesn't add any heat or generate any metal shavings. It also makes it possible to reduce material costs by making the thickness of material sheet thinner, as well as reduce processing time drastically by eliminating cutting process.
Attractive and beautiful surface gloss
Generating a beautiful surface gloss by substantially improving the surface roughness of a product surface, as forming is made by rotating a product.
Three Methods of Applying "Roll-forming"
1. Eccentric Method

Possible to mold more flexible and complicated shape by forming a cup-shaped semi-finished product into a required shape by rotating eccentrically in a mold using rollers.

Able to mold a product in an uneven shape from two directions using an inner mold and outer rollers.

2. Ring Roll Method

Able to extend inner and outer diameters of cylindrical product material using forming rolls.

Can extend the size of a pipe material around two times more toward the radial direction, thus enabling it to mold a pipe-shaped material with a size not commercially available.
Increases the hardness due to work hardening.
Able to mold materials with enhanced hardness (bearing steel, etc.) as well.

3. CAN Roll Method

Able to make a deep drawing by decreasing thickness of inner diameter of a product using small-sized rollers.

Making products lighter reduces material costs. Because it's possible to partially mold extremely thin (1mm – 0.2mm:80% thinner), forming only the required part thinner or thicker enables more flexible design.
An annealing process, required for deep drawing for normal press processing, is not required.
Substantially improving surface roughness by super-deep drawing using small-sized rollers. (Especially in case of stainless material, a beautiful gloss is generated)
Design

Aiming to achieve more difficult and higher-precision process designing at our research center by using a flow analysis system (KAVS) enabling a pre-verification at a designing stage.
KAVS helps reduce development lead time by drastically reducing actual trial manufacturing workload. (KAVS is an abbreviation for Kanemitsu Analyze Virtual Simulation)

Commercialization

High-quality products are developed at our research center by thorough reviewing and trial manufacturing facilities assuming mass production facilities.
Responding to our customers' needs quickly and carefully, enabling a "concurrent engineering" by comprehensively preparing a development plan, putting our executives and related divisions together from the initial stage of product development.
Our Products
Pulleys (parts for engines of automobiles)

Transmission parts (parts for automobiles)

xEV Parts, EPS parts (parts for automobiles)

Other (parts for rice cooker, etc.)
Product Assurance Structure
We have established a product assurance structure through a close communication with customers to offer unique and high-quality products that meet our customers' needs.
We continue to be reliable and trusted by various industries by always delivering high-quality products through our product assurance structure based on IATF16949 Quality Management System.
Our Quality Policy

Contributing to the community and creating our future by delivering world-class, unique, and high-quality products to our customers.

Internally Developing Main Manufacturing Equipment including Roll-forming Machines

As part of our "Only One" policy, we endeavor to make better products by developing our own manufacturing equipment. We continue to pursue further enhanced "Craftsmanship" by internally developing our own original roll-forming machines as well as automatic transporting robots and pressing machines enhanced by our unique ideas.
Sustainability
Each of our employees thinks of the "future" facing with various social issues changing along with the "evolution" of the times.
We continue to contribute to society by defining sustainable development goals.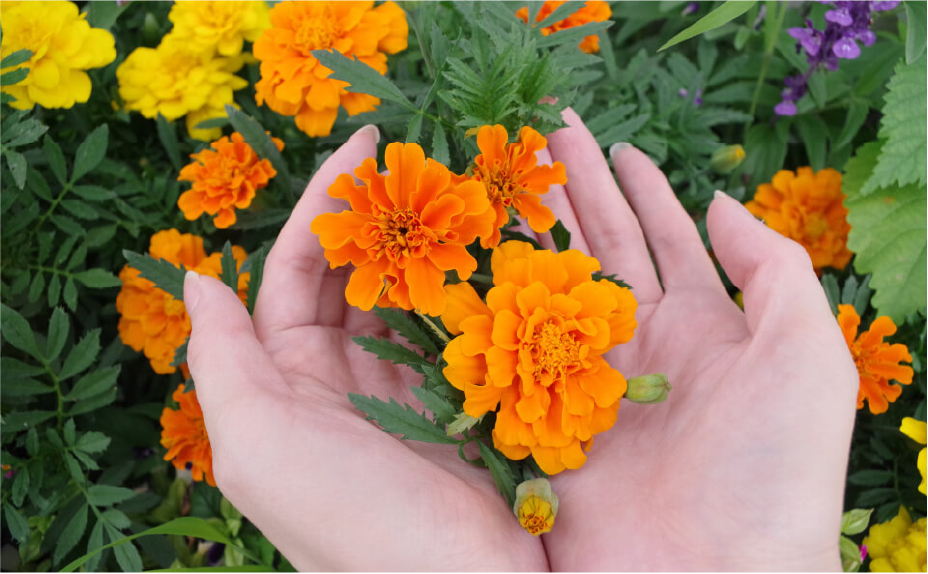 Making Environment-Friendly Products
Our products are manufactured employing methods such as reducing energy consumption loss and making maximum use of raw materials and other precious resources. Our methods don't produce heat or generate any metal shavings. In this way, we contribute to conservation of the global environment in terms of CO2 reduction, making products lighter than the before.
We continue strive to manufacture environment-friendly products by further enhancing our technologies and improving manufacturing processes -- or social responsibility as a manufacturing company.
Our Environmental Policy
We acknowledge that "maintaining and improving the global environment is a critical issue for all of humanity" and define the following policies.
1.Promoting development, manufacturing, and sales of environment-friendly products.
2. Endeavoring to prevent of environmental pollution and to improve condition of the environment through continuous environmental activities.
3. Complying with laws and regulations, rules, regional agreements, requirement agreements with business partners, and internal standards relating to the environment.
Aiming to Materialize a Work Environment Where Everybody Can Work Comfortably Regardless of Nationality, Age, and Gender
Taking various actions to materialize a work environment where everybody can work comfortably regardless of nationality, age, and gender.
Continuing to enhance our company system, etc., in a timely manner so that each employee can work proactively.
Company Overview
Company Name
KANEMITSU CORPORATION
Head Office
20-26 Okurahonmachi, Akashi city, Hyogo Pref. 673-0874
Foundation Day
January 10, 1947
Incorporation
December 27, 1950
Company Representative
Toshiaki Kanemitsu, President and Representative Director
Capital
556,073,892 Yen
Employees
231 (Only for KANEMITSU CORPORATION)
607 (Consolidated)
(As of the end of March 2023)
Affiliated Companies
See business offices / factories and affiliated companies from here
Business Activities
Development, manufacturing, and sales of pulleys and steel sheet stereoscopic forming products for automobiles and agricultural machinery
Business Offices
Domestic Affiliated Companies
Overseas Affiliated Companies
KANEMITSU PULLEY CO., LTD.

Eastern Seaboard Industrial Estate 64/23 Moo 4, Thambol Pluakdaeng,Amphur Pluakdaeng, Rayong,21140 THAILAND

Shareholder composition: KANEMITSU CORPORATION (95%) Bando Chemical Industries, Ltd. (5%)

佛山金光汽車零部件有限公司

中華人民共和国広東省佛山市禅城区南庄鎮広東佛山禅城経済開発区吉利工業園新源2路45号
http://www.kanemitsu-fkc.com.cn/

Shareholder composition: KANEMITSU CORPORATION (85.5%) Bando Chemical Industries, Ltd. 14.(5%)

PT. KANEMITSU SGS INDONESIA

Kawasan Industri Jababeka Ⅱ, Jl. Industri Selatan Blok KK No. 3M,Desa Pasirsari,Kec. Cikarang Selatan, Kabupaten Bekasi Jawa Barat Indonesia

Shareholder composition: KANEMITSU CORPORATION (51%) PT. SETIA GUNA SEJATI (49%)